Electronic Banking
Giving you the tools to bank on your own terms
We provide the ultimate digital banking experience by managing your accounts anywhere with Exchange Bank e-banking. Exchange Bank e-banking provides flexibility, reliability and control to assist managing your finances.
FREE Online Banking
Our Online Banking service is available to you worldwide, 24 hours a day, 7 days a week. Check balances, transfer funds, make a loan payment, pay bills and so much more!
FREE Mobile Banking & Mobile Deposit
Do you want access to your bank account from your smartphone? We have an app for that! Download our EZ Mobile Banking app and enjoy all of the features of Internet Banking right from the palm of your hand! Can't make it to the bank? No worries. Just take a picture of your checks and make a deposit from your smartphone. It's really THAT easy! Read our
Mobile Banking Frequently Asked Questions
for more information.


FREE Bill Pay for Consumer Accounts
Skip the stamps and pay your bills online with FREE Bill Pay for Consumer Accounts from Exchange Bank. It's the easy way to pay!
Pay ANYONE You Want - from babysitters to Fortune 500 companies and everything in between.

YOU Decide When - keep your money as long as you can by scheduling payments to arrive right near their due dates.

NO Forms or Agreements Required - companies accepting electronic payments are in the searchable database and ready for you to select. Other payees can be set up to receive a check drawn on your account.
Bill Pay is great for tracking payments and budgeting! It's also convenient for worry-free vacations. Simply schedule your bill payments before you leave and they'll be paid for you while you're off having fun! Read our Bill Pay FAQs for more information!
Digital Wallet
Now you can leave your wallet at home! Just upload your Exchange Bank Debit Card into your preferred digital wallet app and start shopping! Exchange Bank supports Apple Pay®, Google Pay®, or Samsung Pay® to allow you to pay quickly and securely while shopping in stores or online.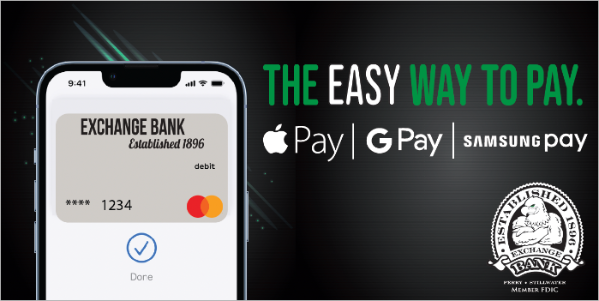 EZShield Identity Theft Protection

Online and off, proactive protection is a must. Alleviate the burden of fraud and identity theft by protecting your information from compromise. EZShield currently protects more than 15 million consumers and small businesses with innovative, high-value products at a low cost. To learn more about how EZShield works, click on the video below..

Ready to enroll? Call us at Exchange Bank and we will get you setup! Our Customer Service center is ready to serve you. Call us at 580-336-5531 or 405-742-0202.
Already enrolled and need to speak with someone regarding your EZShield account? Please call 1-888-439-7443.


FREE Electronic Notices
Tired of getting so much stuff in the mail? We've got you covered. Enroll in Electronic Notices and receive all bank correspondence electronically. No more receiving a loan payment or overdraft notice in the mail!




FREE E-Statements
Help save the Earth... one bank statement at a time with FREE E-Statements from Exchange Bank! Now you can receive your monthly or quarterly statement via email. It's fast, convenient, safe, and best of all it's FREE! Do your part and live smart!
Receive your statement anytime or anywhere.

Get your statement via email and avoid getting another piece of mail.

Store your statements on your computer for instant access.

Print what you need, when you need it.

Files are sent to you password protected for security.

Your statement cannot be lost or tampered with in the mail.

Eliminate post office delivery time.
To Enroll
Visit www.easybanking.net and sign into your Internet Banking account with your secure User ID and password

Select the E-Statement tab under "Options"

Place a check mark beside each checking or savings account that you would like to enable for E-Statement

Carefully read the disclosure, and if you agree select "I Agree" to continue the enrollment process

You will receive a confirmation email. In order to begin receiving your statement(s) electronically, you must respond to the confirmation email.

Statements will not be delivered until you respond to the directions contained in the confirmation email.
By enrolling in E-Statement, you agree to no longer receive your bank statement(s) through U.S. Mail. You can also continue to view and print your images on your Internet Banking as well.
Need Enrollment Assistance? Enrolled in Error?
Please contact us:
Customer Service
580-336-5531 or 405-742-0202
---